Yep, you read that correctly! Watermarked Workspaces is a new security entitlement enabling a Company Network wide watermark to be shown on all files in a Team Workspace where it is turned on. This enterprise-tier feature is available to Company Network and Enterprise Network customers. If you would like to enable Watermarked Workspaces for your Company Network, please submit a request here so that we can turn on that capability. The ability to configure a Team Workspace with the Company Network Watermark is available only for Network Administrators to manage. In this article, we will show you how to configure this feature for your Company Network and turn it on in your Team Workspaces to provide greater security over your content:
Setting up & Enabling a Team Workspace to be Watermarked is a two-step process:
Configure the Company Network wide Watermark
Enable watermarking for a Team Workspace
Before going through those two steps, it will be necessary to navigate to where those steps can be taken:
Navigate to Company Network & Team Workspace Settings
There are a few different ways to access the Company Network & Team Workspace Security Settings:
Navigate to the Company Network Admin view as outlined in this other article. Just click on your avatar in the bottom left hand navigation and select "Account Settings". That will take you to where the Company Network Admin view is visible: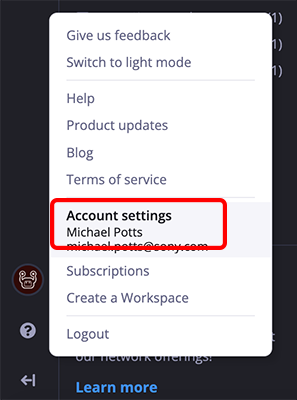 Figure 1: Navigate to Company Network Admin View

From the dashboard view, hover over a Team Workspace and select the icon.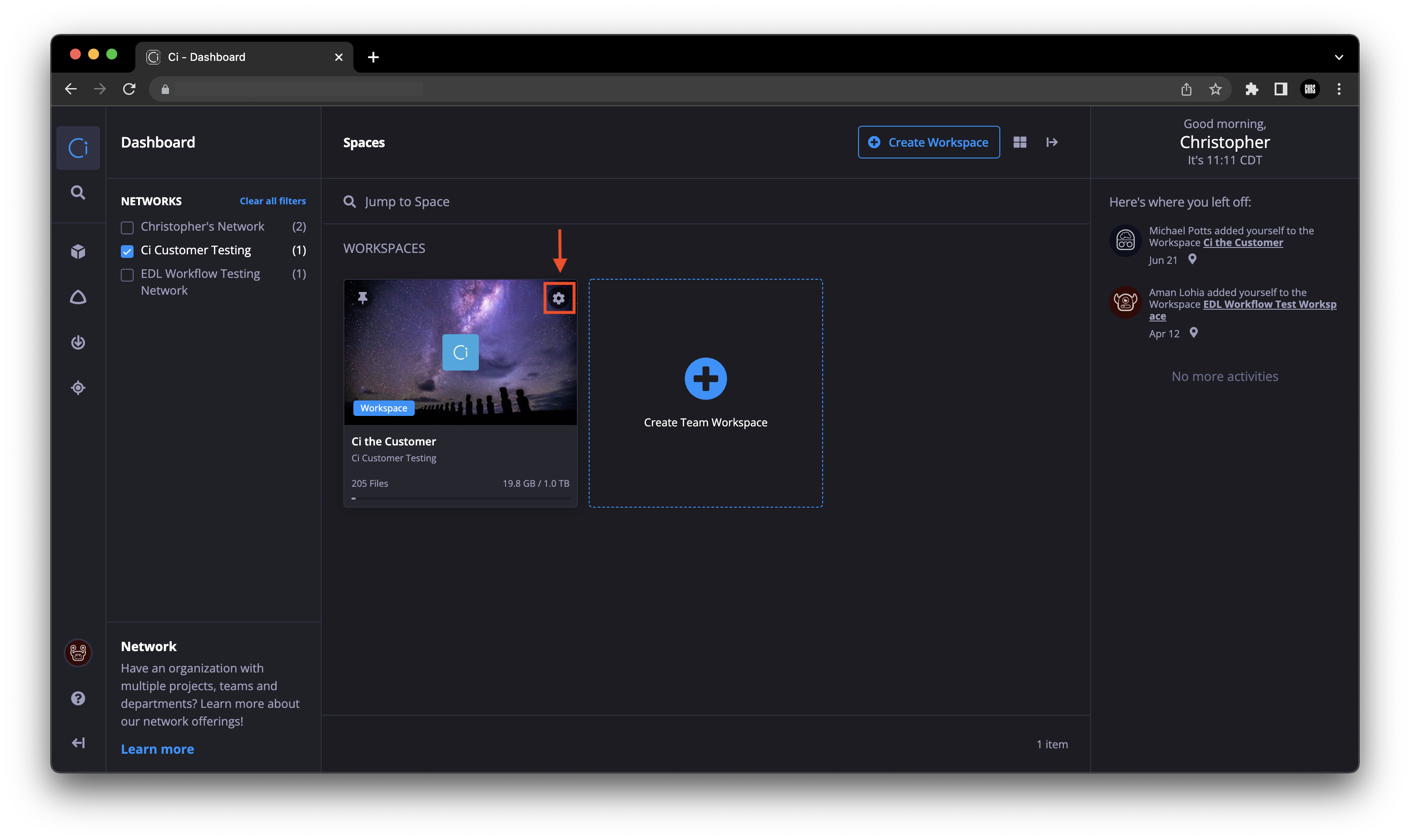 Figure 2: Navigate to Company Network Admin View or Workspace Settings (Dashboard)
In the upper-left corner of the dashboard, click the Ci logo to open the Navigation Menu. Upon opening the Navigation Menu, you will see a list of Workspaces. Hover over a workspace and select the icon.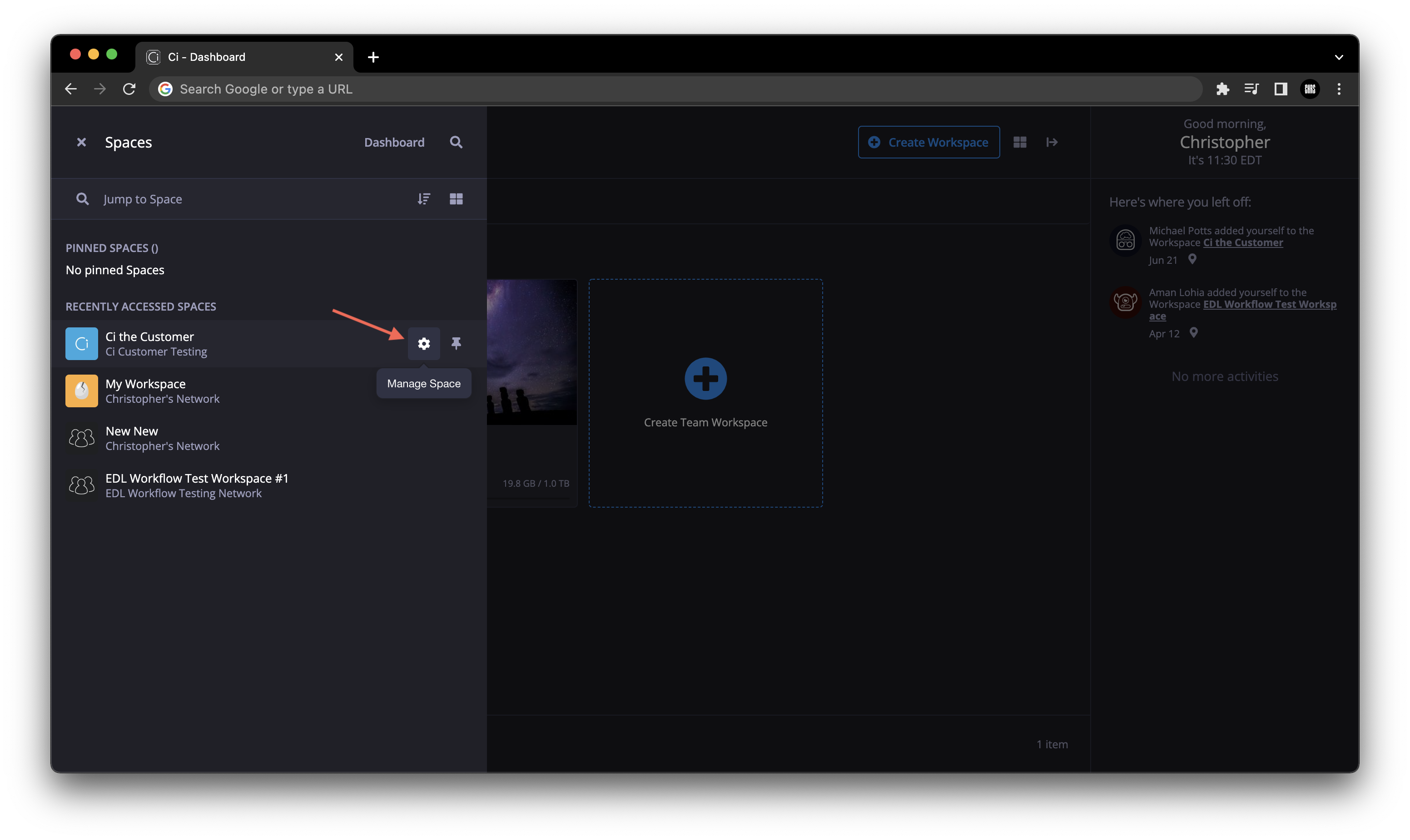 Figure 3: Navigate to Company Network Admin View or Workspace Settings (Nav Menu)
Upon clicking the cogwheel icon or navigating through the Company Network Admin view, you'll be taken either to the Team Workspace settings, which is part of the Company Network Admin view or if navigating through Account Settings to the Company Network View, you can select the Security Navigation Item on the left hand navigation for the Company Network as is seen in Figure 4 below: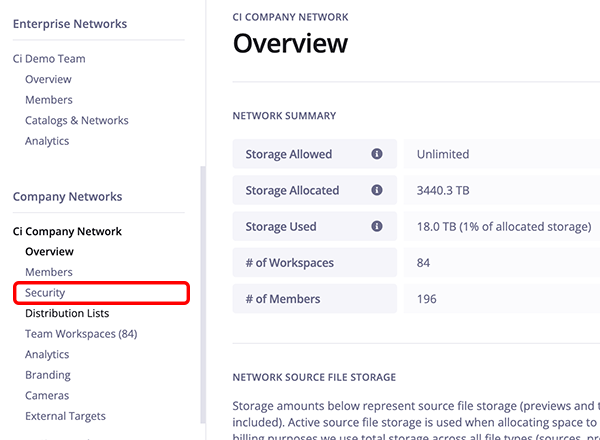 Figure 4: Select Security Left Hand Navigation Item
Now, let's go through those two steps:
Step 1: Configure Watermark Style
A single watermark can be configured at the Company Network level and is applied to all Team Workspaces that have the Watermarked Workspace security feature enabled. In order to configure/modify the Company Network watermark, select "Configure Company Watermark" (see figure 5 below).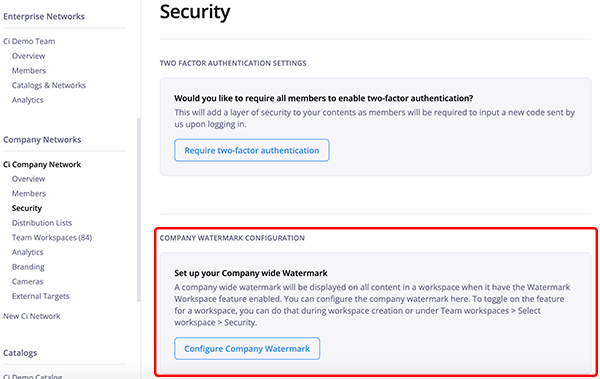 Figure 5: Select Configure Company Network wide Watermark

In the resulting modal, there are three different ways to configure the watermark:
Position - Use the vertical position bar to adjust the location the watermark will display over your content.
Visibility - Use the horizontal visibility bar to adjust the opacity of the watermark.
Watermark Text - Use the text box to change the default watermark text to represent and distinguish your company and brand across the workspace.
Click Save to apply these new changes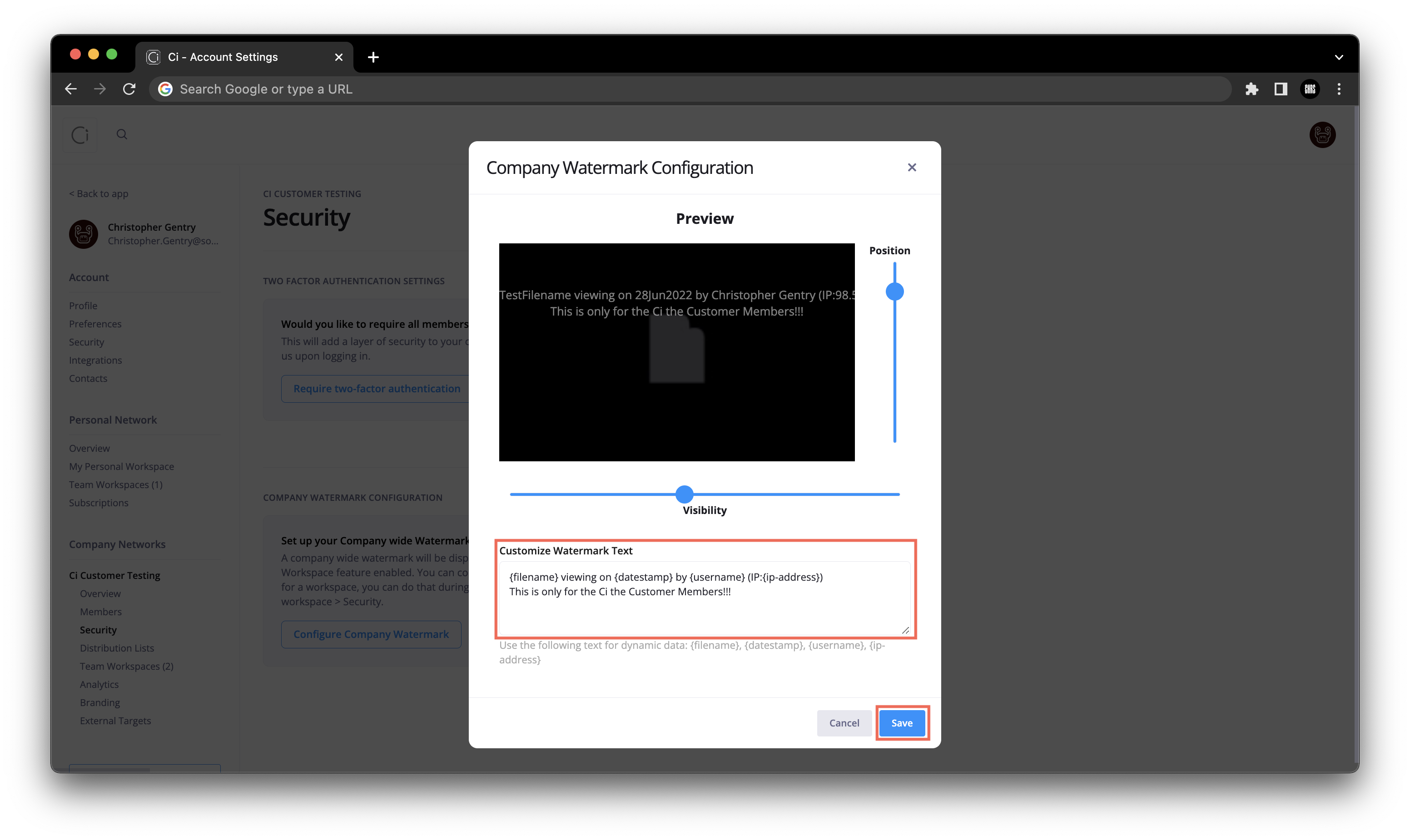 Figure 6: Configure Watermark Style modal
Step 2: Enable Watermarking
Navigate to the Team Workspace Settings, Click the Security tab and scroll to the bottom to view the Watermark All Content section.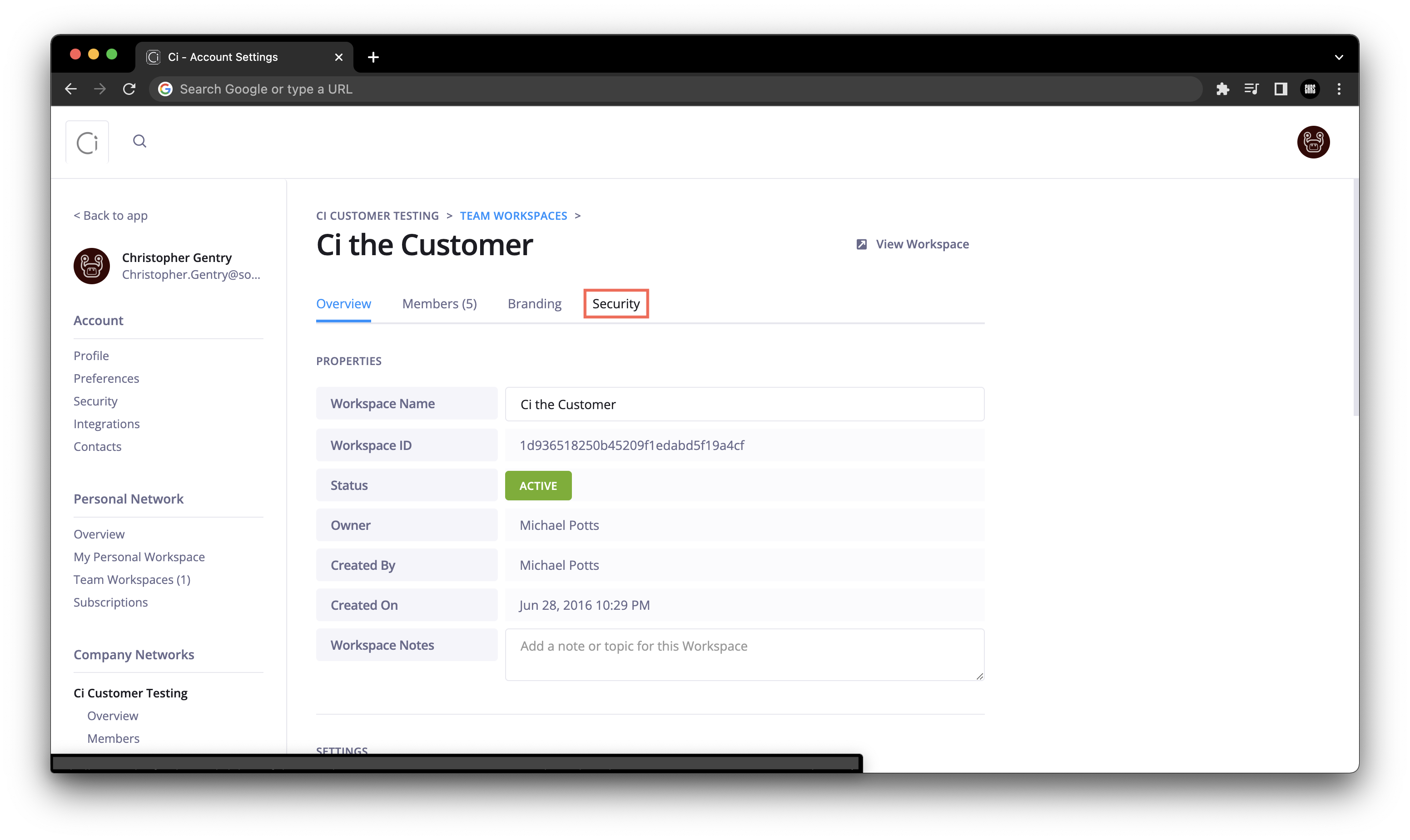 Figure 7: Workspace Settings
Before enabling Watermarking across the Team Workspace, please note the following features will be disabled on the Workspace:
Medialog
RoughCut
Video/ImageReview
Frame Grab
Source Quality Frame Review
Smart Clips
Video Downloads (Still available for other media formats)
Proxies
All Elements
Custom Renders
Copy to Space (Only available for Workspace Owners or Network Admins)
Click the check box and select Save Settings to enable Watermarking: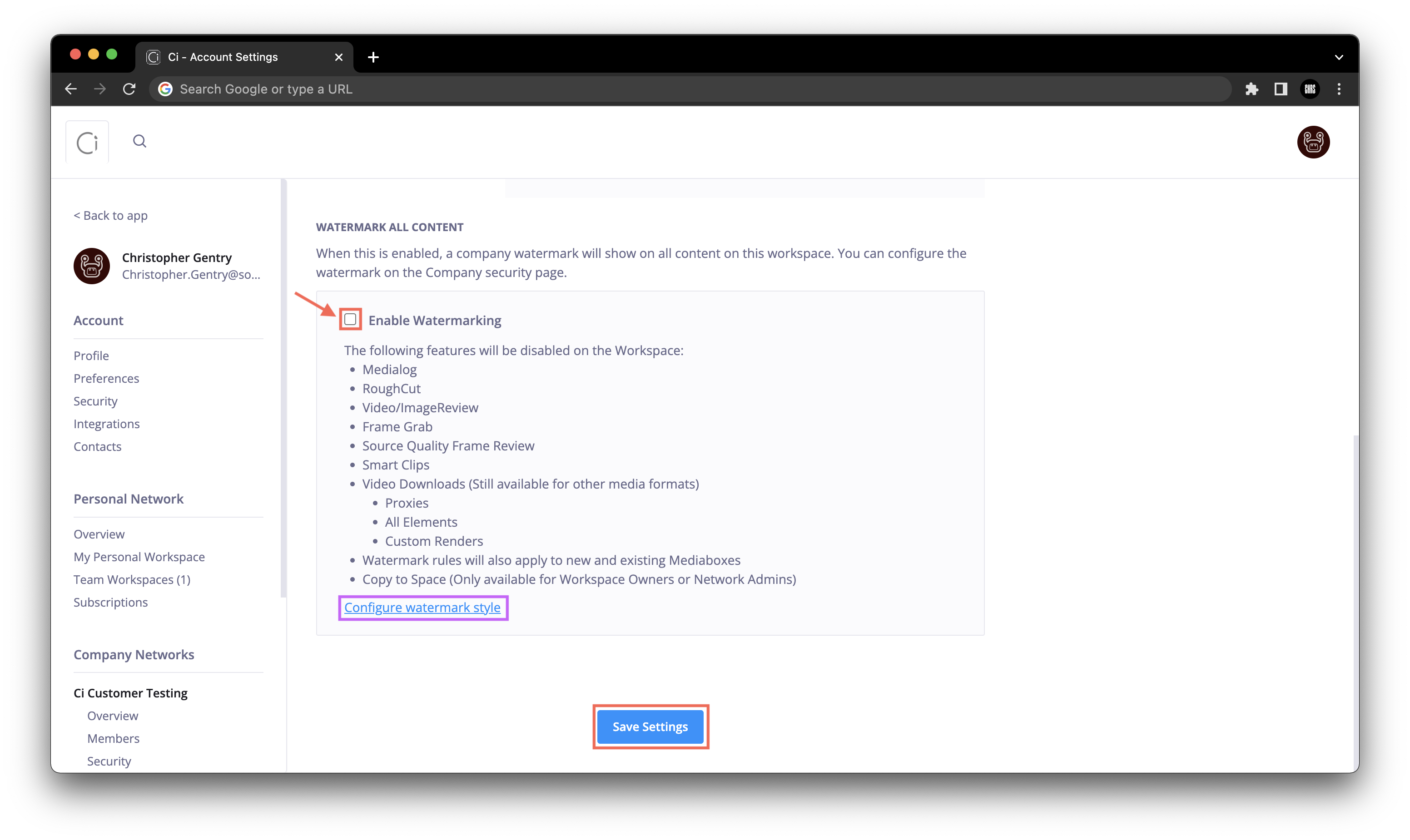 Figure 8: Enable Watermarking
A default watermark will be applied to all assets in the Workspace. This can include tags for the file name, the date the file is being viewed, name of user viewing the file, the user's IP address, and the option to add more text or change the text: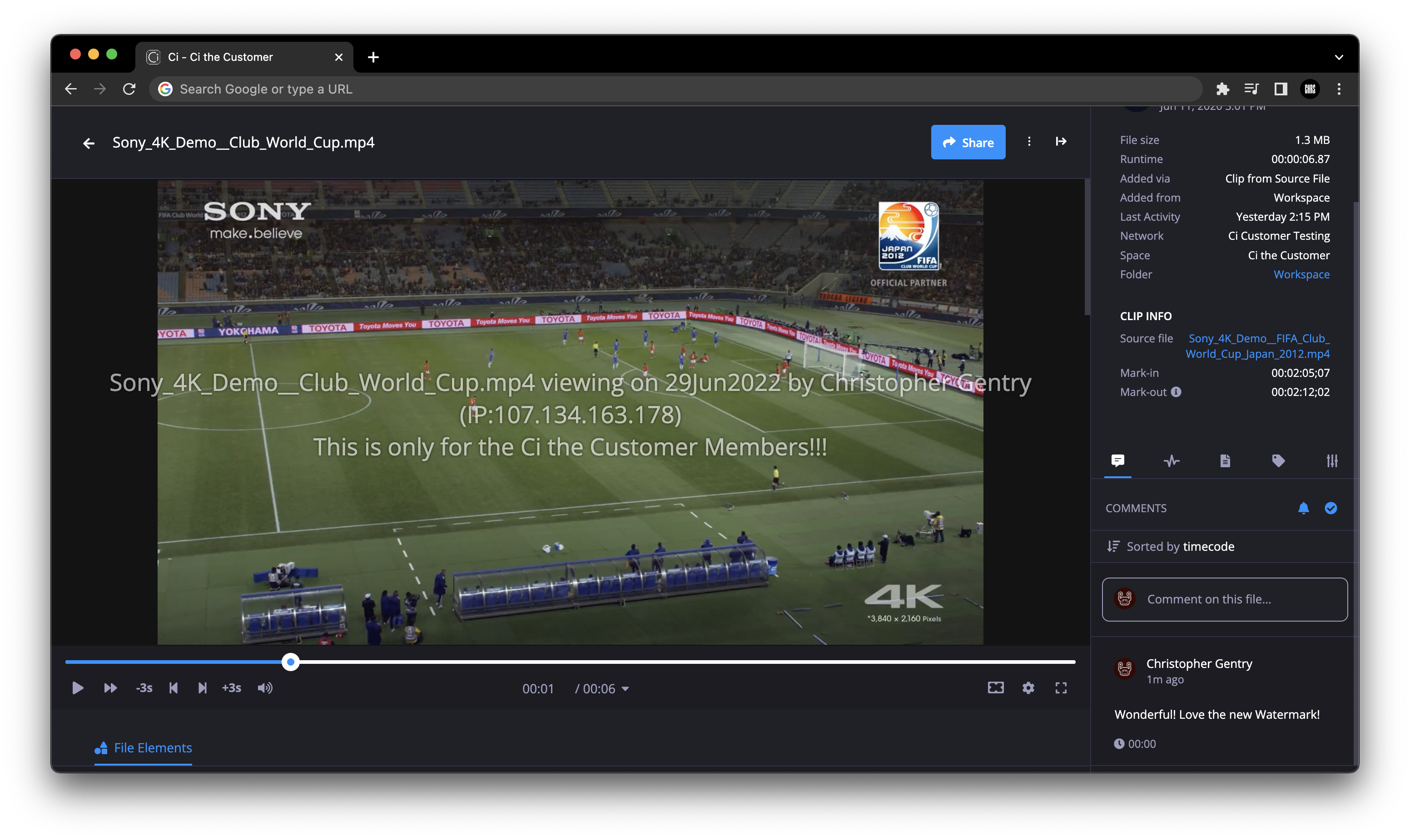 Figure 9: Default Watermark
In order to modify the watermark after it has been configured, select "Configure watermark style" (see figure 8). It will navigate back to the Company Network Admin Security navigation item where the watermark was originally configured for the Company Network. Follow Step again to make any changes to the Company Network wide watermark.
Once the watermarking is applied, you'll notice the thumbnails in the workspace may be initially missing. This is because it will take a moment for thumbnails to reprocess as we apply the watermark. Once this is complete, files, along with all Ci-generated and custom-generated or uploaded File elements including preview thumbnails will have the company-wide watermarks: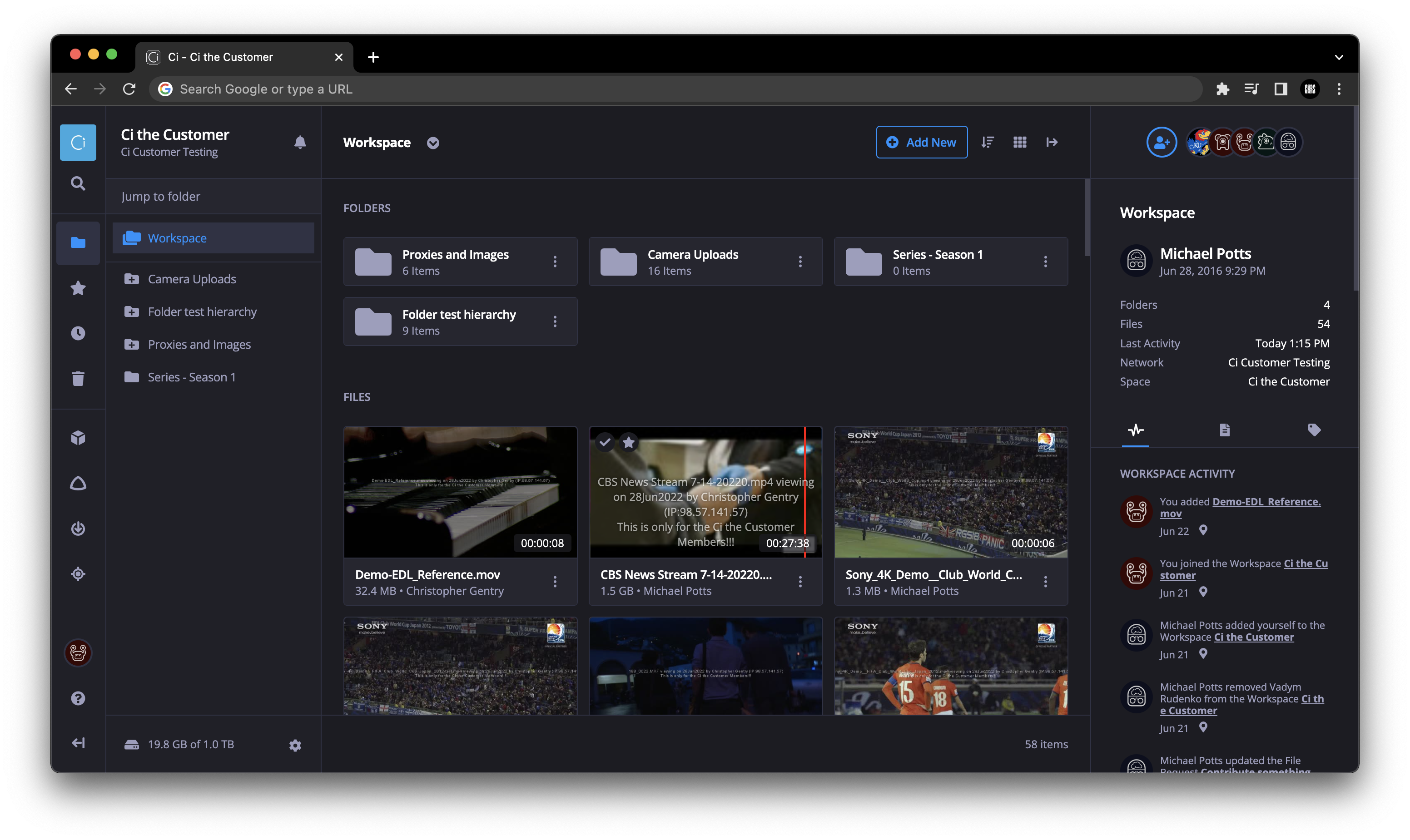 Figure 10: Company Network wide watermarks
Here is more helpful information to know about Watermarked Workspaces:
While sharing videos in MediaBoxes is allowed (with a visual watermark, of course!), downloading videos from a Watermarked Workspace or MediaBox is disabled. For image and document files, users can download files with a burned-in watermark.
When previewing videos, a watermark will be visible in the Player as well as the thumbnails while scrubbing the film strip
Workspace members cannot copy files from a Watermarked Workspace to another Space. Network Admins and Workspace Owners may still use the copy to Space feature.
With this initial release, as mentioned previously, users cannot launch any VideoReview, ImageReview, MediaLog or RoughCut Worksessions but support for VideoReview and ImageReview is coming soon!
Watermarked Workspaces cannot be browsed or viewed on our mobile apps.
Watermark rules will also apply to new and existing Mediaboxes
For any additional questions, please reach out to the Ci Customer Success Team by submitting a request here in the Help Center.