Sent MediaBoxes
Ci keeps track of all MediaBoxes sent from a given Workspace. Sent MediaBoxes can be accessed by clicking on "MediaBoxes" menu option within Workspace Navigation tab (left part of the Workspace view):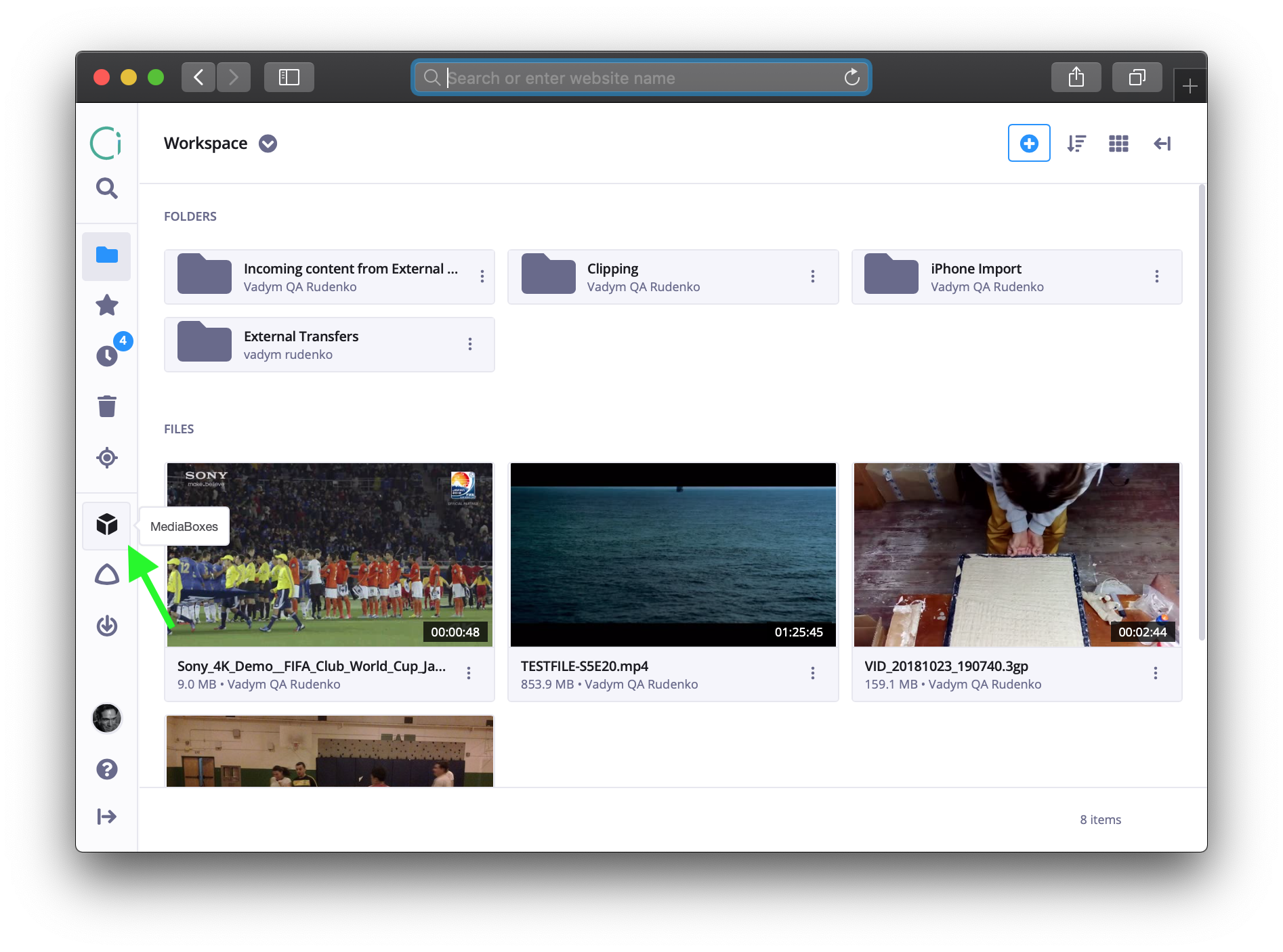 Figure 1: Getting to the list of sent MediaBoxes.
The user will be presented with detailed lists of MediaBoxes:
Figure 2: A list of MediaBoxes
The user may apply different filters to the list of MediaBoxes:
— by origin (sent or received);
— by type (Public, Protected, or Secure);
— by status (open or closed/expired);
— by Space of origin.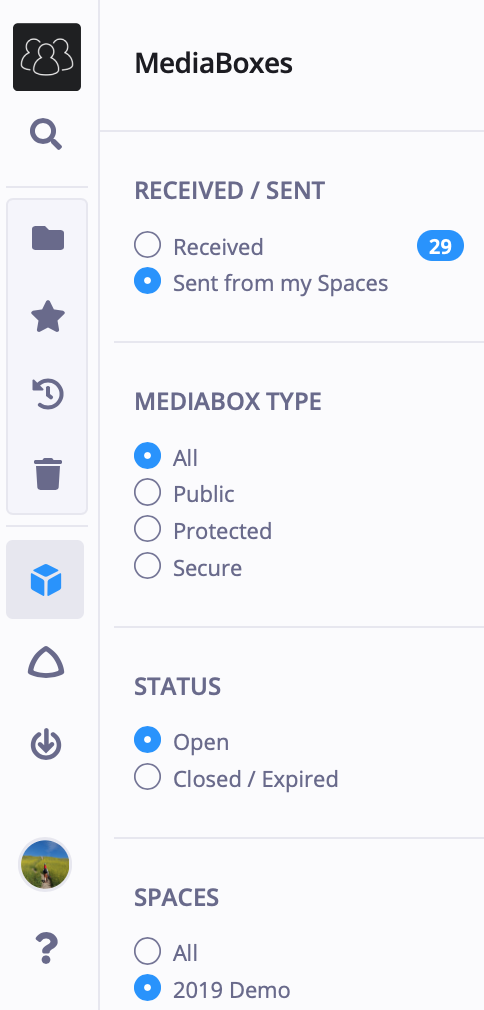 Figure 3: MediaBoxes filters
Lists of MediaBoxes are sortable by the date of creation, type, title, creator/owner name, and expiration date;
A number of actions are available for a MediaBox once the user clicks on it, such as Edit, View, Copy MediaBox link and Close (or just Re-Open for ones that are currently closed/expired):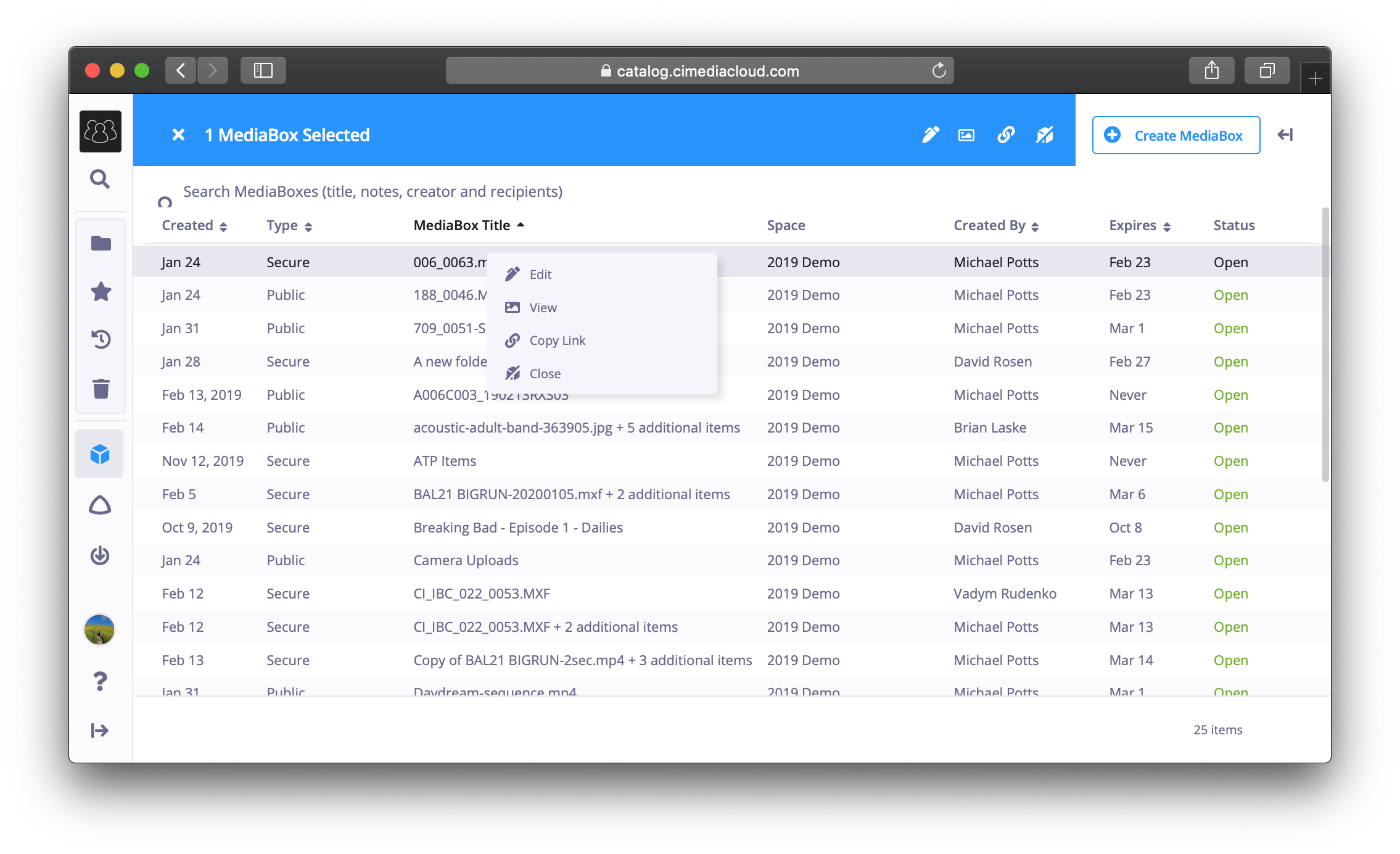 Figure 4: MediaBoxes options
In the same manner, the user can re-open an expired/closed MediaBox: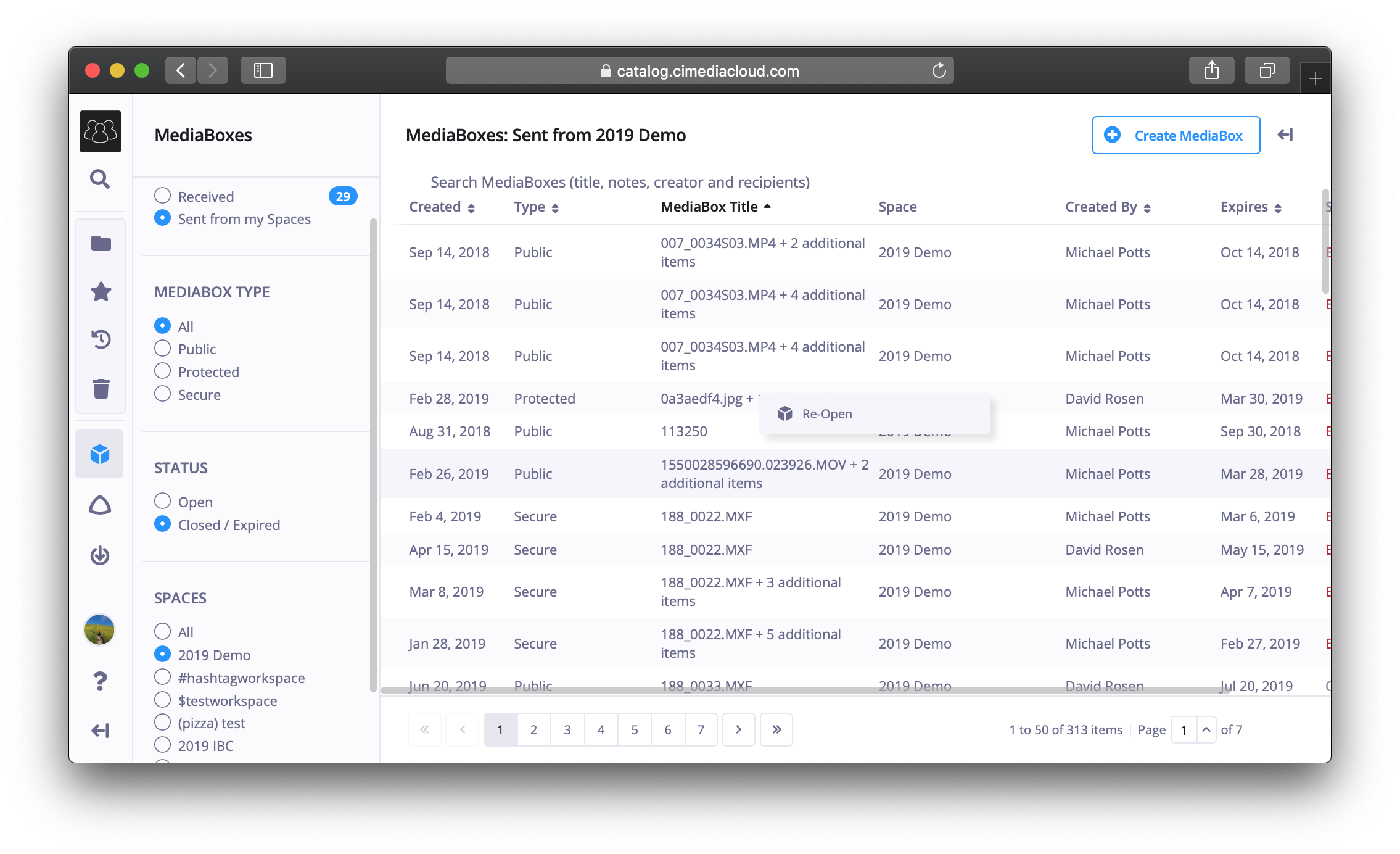 Figure 5: Re-open inactive MediaBox
To see more details of a given MediaBox, the user should make sure the right pane is opened and click on the MediaBox. In the right part of the view, the user will see some additional information, such as number of files the MediaBox contains, number of users it was shared with, and activity, related to the MediaBox: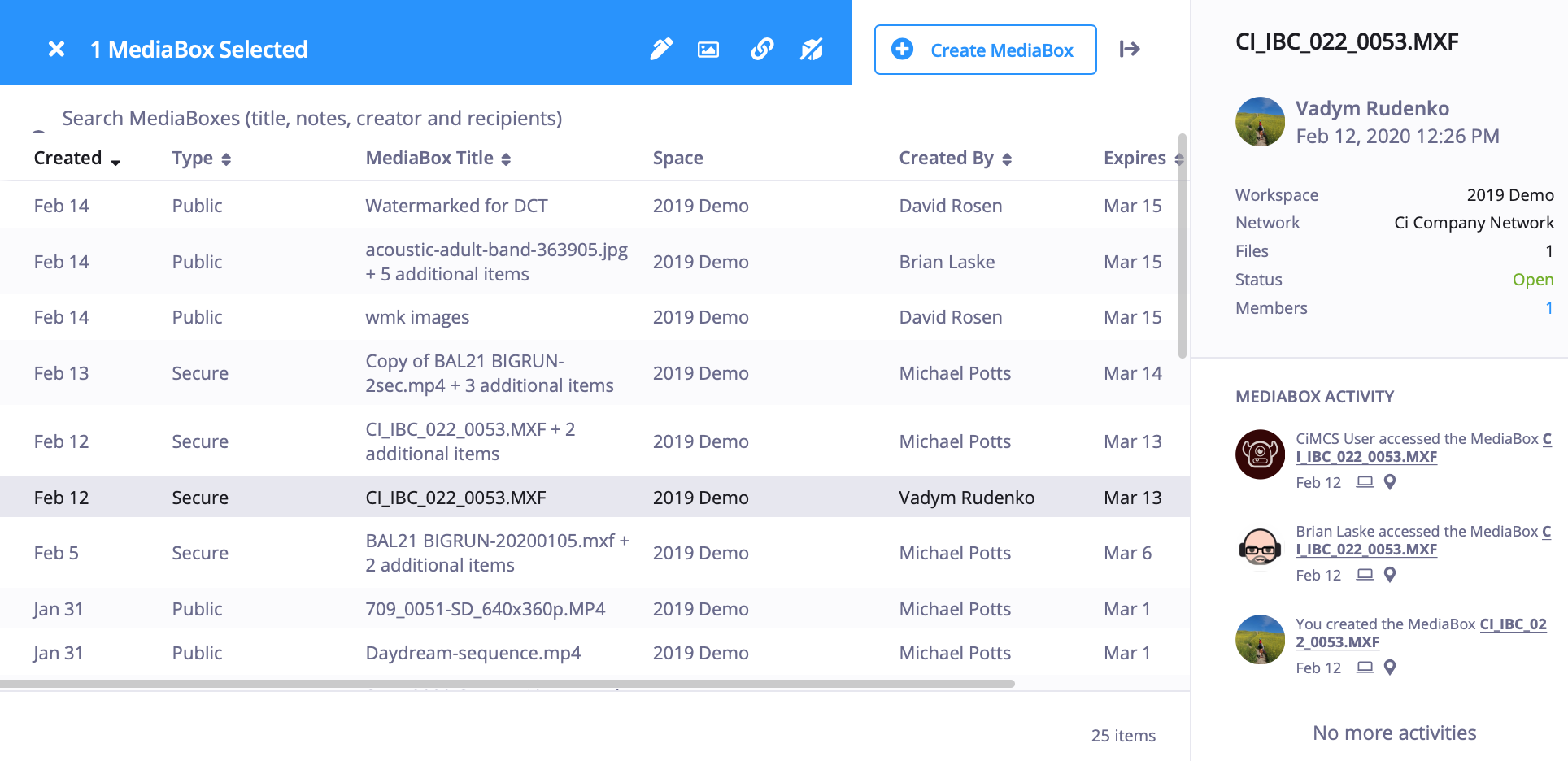 Figure 6: MediaBox info
Received MediaBoxes
To retrieve a list of received MediaBoxes, the user should activate "Received" filter: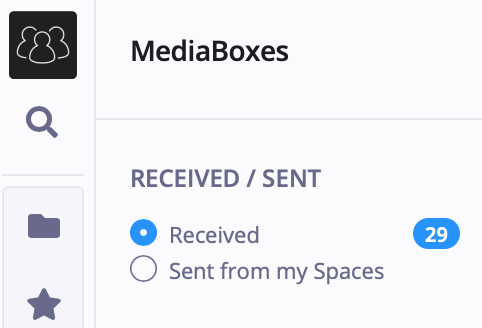 Figure 7: Received/Sent filters
Search MediaBoxes
MediaBoxes are searchable by title, notes, creator/owner name and recipients. The user has to input the search query into the search field and click the Enter button on his/her keyboard: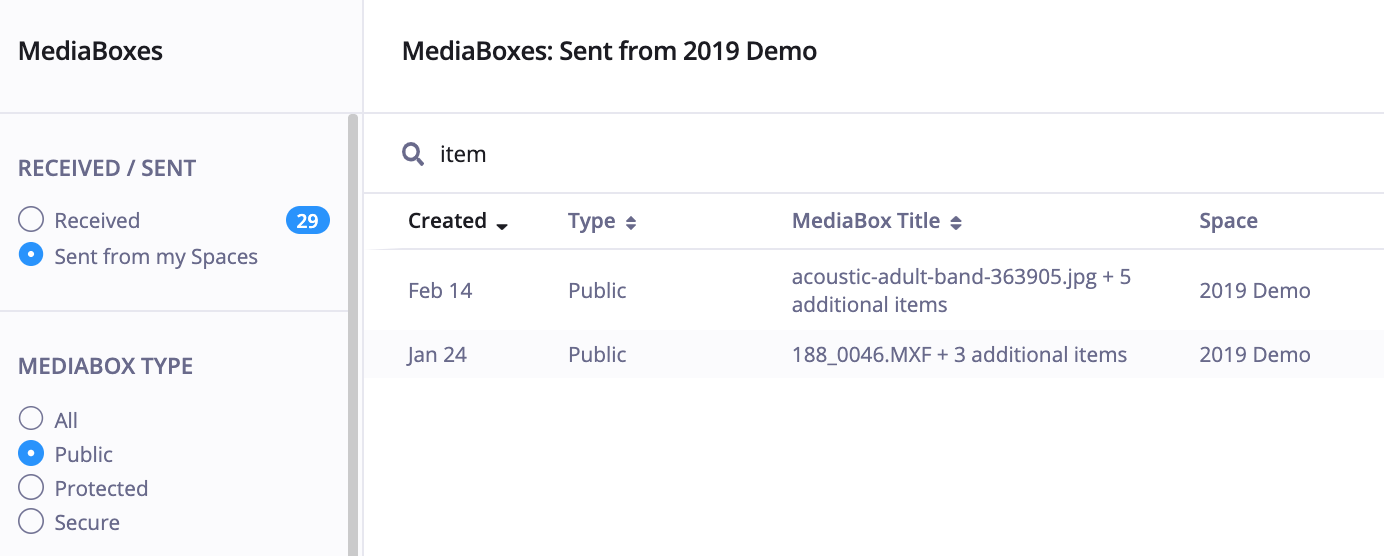 Figure 8: MediaBoxes search results
To clear the search results pate, the users should click on the "Clear" option in the search field.
For any additional questions, please reach out to the Ci Customer Success Team by submitting a request here in the Help Center.